Have you ever had a question and didn't know where to find the answer? If so, you've come to the right place.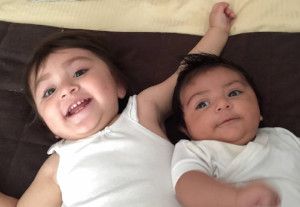 This section is a compilation of answers to the questions most commonly asked by our families. Just start by following one of the links below. If you can't find the question you wanted to ask, don't hesitate to contact us.
ParentsCAN offers free developmental screenings for children ages 2 months to 5 years of age. Screenings help families understand their child's progress. They show important milestones and identify possible concerns as early as possible.

ParentsCAN hosts support groups for parents of children with varied diagnoses. Please see our upcoming Workshops and Support Groups.

Not usually, most services provided by ParentsCAN are free of charge.

Every child's journey is different and parenting is hard work! We partner with and guide parents when challenges arise in their child's education, health, behavior or development.

Everyone is familiar with the airline safety instruction to parents, "In case of emergency, air masks will drop from the ceiling. If you are traveling with a minor, please put on your own mask before helping the minor." And we all know why - because the child can't take care of the parent. It is up to the parent to care for the child.

When problems arise, it is up to the parent to understand the nature of their child's condition/need. Maybe it's a small problem – a little physical therapy, corrective shoes, eyeglasses - and the child is happily on track. Maybe it's a big problem and parents must find the specialists to get a diagnosis/treatment, transport them back and forth to services, wrangle with the insurance company to pay for those services and plan for an uncertain future.

Like the airline emergency, no parent is ever really prepared for this journey. We know it's hard - we've been there. Parents can find support, answers, and guidance at ParentsCAN. For a list of specific programs and services we provide, visit our How We Help section.

We're always on the lookout for individuals like you wanting to get involved. Visit our Get Involved! section to find out ways to donate or volunteer.

We are thoughtful stewards of your investment. Donated funds are used in all aspects of our organization unless, you the donor, restrict the gift. Donated funds underwrite program services, buy essential technology and keep the lights on. Thank you!

We have a responsibility to our community and our donors and work hard to ensure long-term sustainability of the organization. We make our IRS Form 990 available for review and are happy to answers any questions you might have. Visit our Financial Reporting page to learn more.

Our organization takes privacy seriously and we work to protect and ensure the safety of our supporters. We do not sell or otherwise disclose information about our volunteers or supporters outside of our immediate organization. This policy has no exceptions. We do not sell or exchange your information with any other organizations, public, private or nonprofit.