Great Books about Disabilities and Differences
Our friends at Napa Bookmine have put together this wonderful selection of books about disabilities and differences. There is a section for kids and teens, and another section for adults. They also have a non-profit! The Napa Bookmine Literary Foundation is on a mission to provide FREE books to kids and families in Napa who need them. If you are ever in need of free books for your home you can fill out a book request form or email them directly at info@napabookmineliteraryfoundation.org and they will work with you to get you the books you need. Learn more at Napa Bookmine Literary Foundation! 

---
---
Animal cams — Including baby cheetahs!!
---
Virtual Field Trips
Virtual Field Trips Includes virtual outings to zoos, museums, aquariums and some wonderful, additional resources!
---
Fun Resources for Families and Kids with Special Needs
Dear families...we hope you are all healthy and staying safe.  We wanted to share some fun activities (download) for you to do at home with your kids. The therapists at the MTU, NVUSD, the Assistive Technology Lending Library teachers and other families have added to this list and will keep adding to it in the coming weeks. Have you found something fun to do?  Please email the link to napamtu@gmail.com
Recursos para Familias y Niños con Discapacidades
Estimadas familias ... esperamos que todos estén sanos y se mantengan seguros. Queríamos compartir algunas actividades divertidas para hacer en casa con tus hijos. Los terapeutas del MTU, NVUSD (Distrito Escolar del Valle de Napa), los maestros de la Biblioteca de Préstamos de Tecnología Asistencial y otras familias han agregado a esta lista y seguirán añadiéndola en las próximas semanas. ¿Has encontrado algo divertido que hacer? Por favor envíe el enlace a napamtu@gmail.com
---
Coping during Covid-19 Resources for Parents
These all-digital offerings are aimed to help all families navigate this situation, and offer extra support for families whose children need specialized clinical care — now more than ever.
---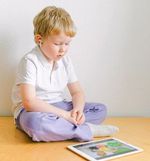 Tools for learning:
Link to educational worksheets from greatschools.org
Apps for Students With Special Needs. The coronavirus creates a unique challenge for students with special needs—educators share recommendations for apps to support learning at home. 
---
For up-to-date information from the Napa Valley Unified School District, including school calendar, meal programs and other assistance, please visit: https://www.nvusd.k12.ca.us/