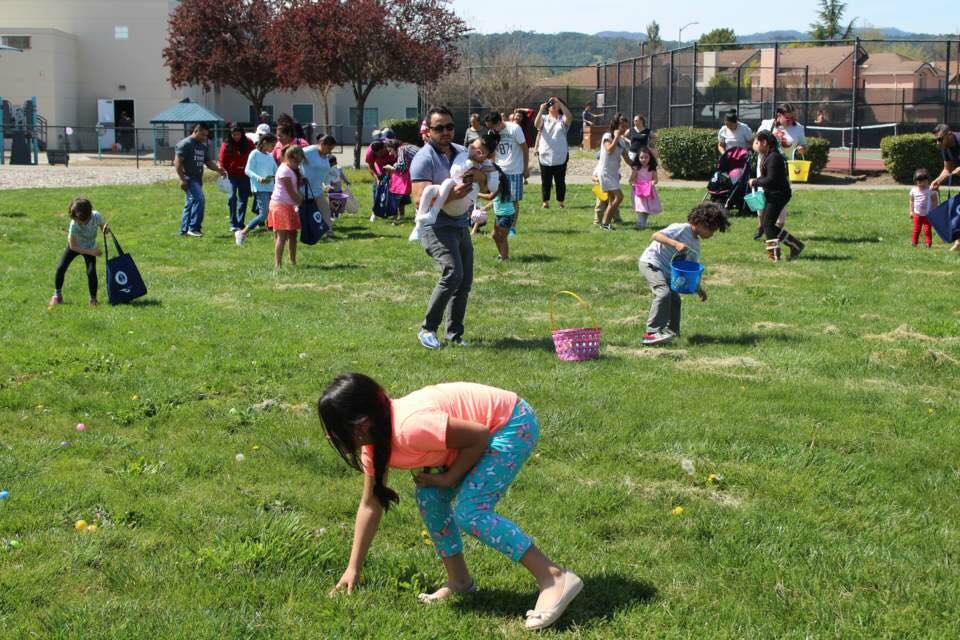 On Saturday, March 31st ParentsCAN and the Active 20/30 Club of Napa welcomed 80 kids with special needs and their siblings under 10 to their first Sensory Friendly Easter Egg Hunt and party.
Event organizer and parent Candice Chia explained, "For kids like my son who have sensory sensitivities, events with loud noise levels, big crowds, music blaring, and lots of commotion can be truly overwhelming and over stimulating. Sensory friendly events like Project Easter Bunny provide families like mine with a way to expose our kids to the same enriching childhood experiences that every child should have, but in a calmer, quieter, understanding and accepting environment."
Before the egg hunt, the party started indoors with activities which were selected to both be fun and be accessible to all. The children participated in card making and coloring stations as well as expert face painting. They also enjoyed a bountiful selection of free books provided by the Napa County Library, clothing and accessories provided through Delivering Good as well as gifts provided by the Active 20/30 Club and Melissa & Doug. Every child including siblings received a special gift of a new Melissa & Doug toy!
Parent Monica Fernandez commented, "Having the first part indoors was a treat. Michael is sensitive to sunlight and this way he could be in a comfortable area doing things like coloring and reading books to keep him level. The noise was not too loud, not too echoey."
The weather was perfect for an outdoor Easter Egg Hunt. Being mindful of food allergies and the dietary restrictions of some kids with special needs, the event was candy-free. The Active 20/30 Club provided over one thousand plastic Easter eggs filled with prizes like stickers, stamps, tattoos, erasers, and small toys. During the egg hunt, parents were able to assist their children to navigate the field at their own pace which was especially important for kids with mobility challenges.
A family member offered "The party had a wonderful sense of family and community. I participated in the Easter egg hunt with my niece who cannot walk unassisted. She was having a great time just being on the field with the other children but it was very difficult for us to pick up any eggs. Without being asked, many children volunteered to help us fill her bag including very young children and other children with disabilities. It was incredibly heartwarming to have that assistance offered by so many families."
"Sensory-friendly events like Project Easter Bunny are more significant than the general public probably realizes." said Marlena Garcia, Executive Director of ParentsCAN. "It's not just an egg hunt. It's about ensuring that every child can have these kinds of positive childhood memories regardless of their challenge. We are grateful to the Active 20/30 Club of Napa for partnering with us to give kids with special needs this opportunity for the first time in Napa."