advocate
[ verb ad-vuh-keyt; noun ad-vuh-kit, -keyt ]
verb:  ad·vo·cat·ed, ad·vo·cat·ing.
to speak or write in favor of; support or urge by argument; recommend publicly
ParentsCAN will be curating content from various agencies and foundations that advocate for individuals with disabilities. Please check back often as the content will change.
Save the Date! Virtual Mini-Conferences November 10th and 12th.
The National Federation of Families for Children's Mental Health's will be holding virtual mini-conferences on November 10th and 12th from 1:00 - 4:15 pm ET.
The conference will include 90-minute workshops from professionals, family members, and youth that support the well-being of our children and promote family voice in children's mental health. The themes will be "Tackling Mental Health Disparities for Children of Color" and "Mental Health, Substance Abuse, and Family & Peer Support Virtual Services that Work."
Stay-tuned for more information about how to register!
---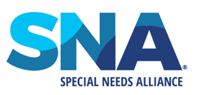 Attorneys for Special Needs Planning
The Special Needs Alliance (SNA) is a national organization comprised of attorneys committed to the practice of disability and public benefits law. Individuals with disabilities, their families and their advisors rely on the SNA to connect them with nearby attorneys who focus their practices in the disability law arena.
They have a lot of valuable information on their website, including where to find an attorney that can help you and your family as well as articles about topics such as special needs estate planning, preserving SSI benefits during a divorce, and how planning an estate can help all the siblings in a family. 
For more information, visit their website.